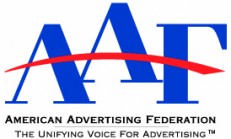 WASHINGTON, D.C. – November 18, 2014 – The American Advertising Federation has announced, today, a nationwide partnership with generationOn, the youth and family division of Points of Light, elevating the impact of youth service through a unique mentorship and creative development program at the Advertising Hall of Achievement Induction Ceremonies and Luncheon in New York City. Aligned with youth development research, generationOn meets kids and teens where they are and seeks to engage them across a spectrum of service, service-learning and youth leadership development programming.
Celebrity Youth Ambassador for generationOn, and member of the Advertising Hall of Achievement Class of 2012, Max Page, unveiled that through this partnership, generationOn service clubs with members ages 5-18, will be paired with AAF's vast network of over 200 college chapters to develop an advertising campaign to amplify youth public service programs across the country and make a larger impact in the lives of the people in our communities.
Daniel Horgan, Executive Director, generationOn, said, "We are thrilled to be partnering with AAF to expand the support that we can provide our youth service club network.  Kids and teens around the country are actively planning and implementing hundreds of service projects addressing critical social issues.  AAF's advertising support will help amplify these projects and maximize both volunteer engagement and community impact."
Rich Stoddart, CEO, Leo Burnett North America; AAF Chairman of the Board and member of the Advertising Hall of Achievement Class of 2002, will be spearheading the first program this Spring in partnership with AAF College Chapter, University of Illinois, and the generationOn Jordan Creek Kids Care Club.
"We are using the power of advertising to create new opportunities for Hall of Achievers to give back, connecting them with our AAF college advertising students, giving them practical experience and in turn helping teams of generationOn kids and teens begin a life of community service and an appreciation for advertising," said AAF President and CEO, James Edmund Datri.
Members of the Advertising Hall of Achievement, a group with exceptional dedication to public service while fostering young talent in the industry, will mentor the partnership — providing professional advice, oversight, and creative support. This illustrious group includes 153 members with expertise spanning the entire spectrum of the advertising industry including clients, agencies and media. The Hall has long been the gold standard in recognizing the leading young advertising professionals age 40 and under, and is operated by the American Advertising Federation, the same organization that operates the Advertising Hall of Fame.
This announcement followed the induction of Lauren Connolly, BBDO New York; Sarah Hofstetter, 360i; Ross Martin, Viacom Media Networks; Erika Nardini, AOL; Elias Plishner, Sony Pictures Entertainment; Bozoma Saint John, Apple iTunes and Beats Music and Jennifer S. Warren, RadioShack into the Advertising Hall of Achievement.
For more information please visit www.membership.aaf.org or call 800-999-2231.
---
About generationOn
generationOn is the global youth service movement igniting the power of kids and teens to make their mark on the world. As Points of Light's youth and family division, generationOn inspires, equips and mobilizes youth to take action through generationOn service clubs, youth leadership programming, campaigns and days of service. It also provides tools and resources to youth, families, educators, and youth practitioners to help kids and teens change the world and themselves through service. For more information, visit www.generationOn.org.
About Points of Light
Points of Light – the largest organization in the world dedicated to volunteer service – mobilizes millions of people to take action that is changing the world. Through affiliates in 250 cities and partnerships with thousands of nonprofits and corporations, Points of Light engages more than 4 million volunteers in 30 million hours of service each year. We bring the power of people to bear where it matters most. For more information, go to www.pointsoflight.org.
About the American Advertising Federation

The American Advertising Federation (AAF), the nation's oldest national advertising trade association, and the only association representing all facets of the advertising industry, is headquartered in Washington, D.C., and acts as the "Unifying Voice for Advertising." The AAF's membership is comprised of nearly 100 blue chip corporate members comprising the nation's leading advertisers, advertising agencies, and media companies; a national network of nearly 200 local clubs representing 40,000 advertising professionals; and more than 200 AAF college chapters with over 5,000 student members. The AAF operates a host of programs and initiatives including the Advertising Hall of Fame, the American Advertising Awards, the National Student Advertising Competition, the Mosaic Center on Multiculturalism, and summer Ad Camps for high school students. For more information on the full range of AAF programming, visit www.membership.aaf.org.