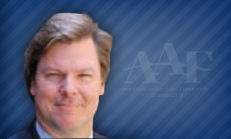 Dear fellow D3 AAF Colleagues,
This year is off to a great start. The District 3 Board received a lot of positive feedback from many of the attendees at the D3 Leadership Conference in August, making it one of our best conferences to date. The conference committee did a great job of planning and organizing a great program that was highlighted by Andy Azula, Executive Creative Director at the Martin Agency. We had over 20 first time attendees along with representatives from almost every club, who finally got to find out why all of the other districts think so highly about D3. I hope everyone made good connections and feel confident in reaching out to one another for help.
By now, all clubs have had their Kick Off events, are signing up members and are planning for the American Advertising Awards lurking around the corner. This year's focus is on club strength, which includes a goal of increasing both membership and American Advertising Award entries by five percent. Revenue from both membership dues and American Advertising Awards entries makes up the majority of funds for our clubs.  Therefore, club leadership should continue to focus on membership recruitment and promoting the local awards competition.
AAF National has implemented a number of changes in the categories for the awards this year, which you will find in the Professional and Student Rules and Categories on the National website as well as on the D3 Committee Facebook page. It is never too early to begin to communicate category revisions to your members to generate interest in participating in the American Advertising Awards.  This will help increase the entries and add to successful galas and clubs.
I want to also thank the 2015-2016 D3 Chair, Ace Evans, for his dedication as last year's Governor his efforts in preparing the District for this upcoming year. During his tenure as Governor, he led the district to an overall increase in membership and to a secure financial position despite a decline in NSAC entries.
With an ambitious group of District Board and Committee Chairs slated for the year, I am very excited to collaborate with each club and witness all the energy and creativity. Thank you for all that your clubs do for AAF and I look forward to keeping this momentum going.
David