Liberty University's Student Advertising Team placed second in this week's National Student Advertising Competition (NSAC) at the American Advertising Federation's annual ADMERICA Conference in Hollywood Beach, Fla.
The 14-member team, made up students from the School of Communication & Digital Content, the School of Visual & Performing Arts, and the School of Business, finished runner-up behind Ithaca College and ahead of third-place Syracuse. Other participating schools were Columbia College Chicago, Johnson & Wales University Providence, South Dakota State University, Southern Methodist University, and the University of Alabama. Liberty was the only first-time team to compete at the national level.
This year's competition was sponsored by Weinerschnitzel!, a predominantly West Coast hot dog chain. All of the AAF Student Advertising Teams in the nation worked to create marketing campaigns for the company. Liberty named its campaign "Top Dog of Taste," and its primary objective was to change the perception of the hot dog. The students also created a social media marketing plan that included an Instagram campaign with five different commercials.
Four members of the team presented the campaign and earned the competition's inaugural Jeanie Ruedy Best Presentation Team Award for excellence displayed in team performance and dynamics. The award came with a cash prize of $2,500.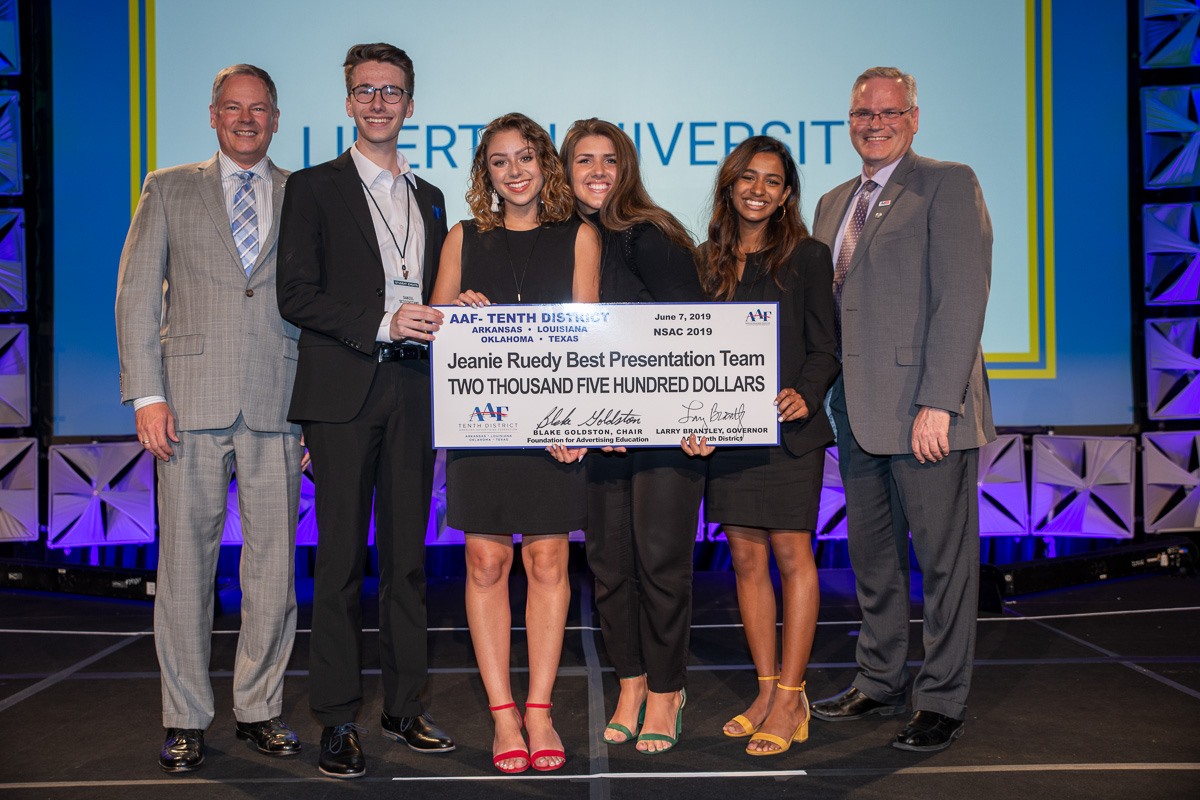 "It was very unreal, completely from God," said Charis Gnanakan, a May graduate who served as the team's campaign manager. "It's crazy to see how we collaborated with one another because all of our giftings are so different. That was my favorite part of the experience, just to collaborate with these incredibly great creatives. It made the whole presentation more full, having all these unique skill sets working with one another."
Gnanakan, who graduated with a degree in strategic communication and a minor in global studies, is serving as a marketing and community relations intern with the Museum of the Bible in Washington, D.C., this summer.
Caitlyn Richard, Garrett Hedrick, Makayla Pollard, and Trent Haddock served as the team's graduate student advisors, overseen by Dr. Kristin Hark.
"The reason the team won was they worked together in learning how to put a marketing campaign together," said Richard, who graduated from Liberty with a B.S. in Strategic Communication in 2017 and an M.A. in Strategic Communication in May. "We had so many setbacks along the way, but we knew that God would get us through it."
"The whole time we just kept giving it to the Lord and that's Who we owe our success to," added Julianne Rodgers, the team's research coordinator who graduated with her strategic communication degree in May and will begin her master's in the same program this fall. "God ordained every person with their personalities and their strengths to be on the team. Every single person's input into every idea was crucial."
Friday's awards presentation was the culmination of a conference that started on Wednesday.
"The last three days have been so busy, but so much fun," Rodgers said. "I have been learning so much."
Two years ago, Liberty's team won the AAF District 3 competition, placing ahead of 10 other schools from Virginia, North Carolina, and South Carolina, to advance to the national semifinals for the first time. This year's team started working on the campaign in September and advanced through three stages of competitions. It repeated as District 3 champions in April before placing second in the national semifinals held on May 8 and qualifying for nationals.