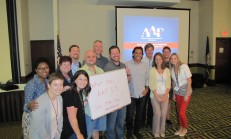 Another successful District 3 Leadership Conference commenced this past weekend in Bristol, VA, thanks to AAF SWVA and our D3 sponsors.  The D3 Board and all of the attendees would like to thank Photoelectric and Chris Brank Films once again for their documentation of our event and the resulting highlight reels.
Day 1: Keynote Speaker and VIP Games
Day 2: Information Sessions and Saturday Night Social
Join us for the 2016 D3 Leadership Conference
CLICK HERE for all the more information.